Gag's Mini Storage is committed to protecting your privacy and we respect the priority you place on guarding and managing any personal information you share with us. We take your privacy concerns very seriously. Any personal information that you provide to Gag's Mini Storage should be offered and supplied on a completely voluntary basis. We ask for this information so that we can deliver the services you want. Information that you voluntarily provide to us, such as your name, mailing address, phone number, email address, and contact preferences, are used to process your requests for information. The information you provide will be stored by Gag's Mini Storage until you direct otherwise. If you later change your mind and decide that you no longer want to receive communication from Gag's Mini Storage please reply to any message you receive indicating your desire not to be contacted.
Similar to most websites, this website gathers and stores certain data automatically. This data, which does not identify individual users, may include internet protocol (IP) addresses, browser types, internet service providers (ISPs), referring/exit pages, operating systems and dates/times. Gag's Mini Storage uses this information to administer the website and to compile generic demographic information only. This website may also use "cookies" to help us understand which features our visitors are using and to customize their experience. A cookie is a small text file placed on your hard drive by a web page server. It cannot be executed as code or deliver viruses. It is uniquely yours and can only be read by the website that gave it to you. The cookies issued by Gag's Mini Storage store no personal information. It simply tells our website when you return.
Lastly, under certain rare circumstances, we may need to disclose personal information when required by law to do so, such as when disclosure is necessary to comply with a court order or legal process. Please keep in mind that whenever you provide personal information online, there is a risk that it may illegally be accessed, compromised or otherwise used by unauthorized persons. Gag's Mini Storage believes that the safeguards we have in place to prevent unauthorized uses meets or exceeds the industry standards for such protections.
If you later change your mind and decide that you no longer want your personal information made available to Gag's Mini Storage, please contact us via telephone at (507) 345-5858.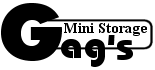 Gag's Mini Storage
55151 210th Lane
Mankato, MN 56003
(507) 345-5858
(800) 714-7895