Make a payment for your Mini-Storage Unit using Paypal.
WARNING: This Page is for Legacy Customers Only.
This form is only for customers who started their current storage contract prior to June 1, 2015 and have remained current on their payments. If you started your storage contract after June 1, 2015 or have been more than 30 days late with a payment, these rates are not valid for your storage contract. If you are not eligible for these rates, your payment will not be considered paid in full and you may be assessed a late charge.
You will be taken to Paypal's secure website to make your payment and then returned to our website.
Thank You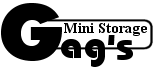 Gag's Mini Storage
55151 210th Lane
Mankato, MN 56001
(507) 345-5858
(800) 714-7895
Home Gag's Camper Way Privacy Policy
© 2000 - 2015 Gag's Camper Way, Inc. - ALL RIGHTS RESERVED